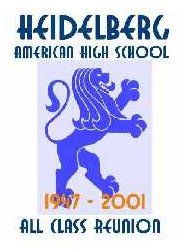 Reunion 2001 Class Photos
The HHS Alumni Association needs your help! Please send a scanned copy of your official reunion photo from the July 2001 reunion to the HHS Alumni Association. Also include all the names of your classmates.
Click on each photo thumbnail to view full size. Use your "back" button to return to this page!
Photo courtesy of Joe Keating

Class of 1955
Left to right top: Mark Smith, Mary Anne Curtis Curray, Kevin O'Neil, John
Holsonback, Laurie Romans, Joe Keating.
Left to right front: Ellie Smith Fox, Wally Hill, Anne Smith Atherton,
Caroline Ayers Treiber, John Barlow.

Class of 1967
From left to right: Terry Miller, Genie Beyer, Kelly Dazet, Nancy Jessup, Bruce Chapman, Sue Bennett, Bill Tryon, Pam Roberts, Steve McGregor. Attending, but not pictured are: John and June Gannon and Chris Exton.
---